A friend of mine is a real leader when it comes to radical change. She writes articles and books about the ways that we need to focus on addressing the root causes of harm in our communities so that we can build a society where policing and prisons become obsolete. She critiques the dangers of our investment in extreme militarism, our integration into this capitalist dystopia, our toxic homophobia, sexism, and racism, and so much more. She's also the mother of two amazing sons. I love the spirit of love and freedom that she is cultivating in the real world, and how she and their dad are raising such revolutionary kids. So, I decided to try and gift the boys some appropriately revolutionary toys.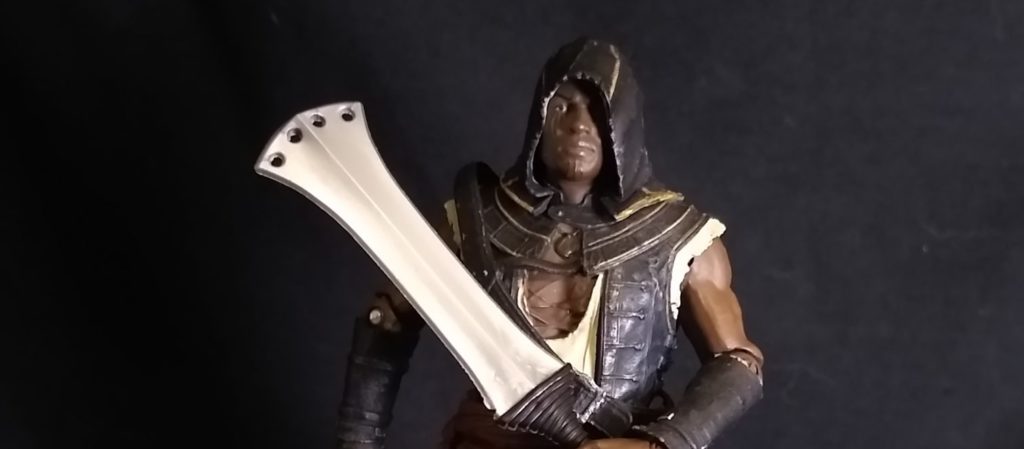 Since the younger one is partly named after Toussaint Louverture, Adéwalé seemed like a great option. He's someone who was born into slavery on Trinidad, but he fought back and killed his so-called "master" in order to gain his freedom. His story comes from the video game Assassin's Creed. As part of the game, the next episode in his life is that he joins some pirates led by a member of this secret society of Assassins and starts to follow their code (or something like that… I've never played those games). The creed itself is another part of who he is that is worth sharing. Adéwalé believes:
"nothing is true, everything is permitted."
Like most important words and phrases, this creed can be interpreted in different ways. When Adéwalé says "nothing is true, everything is permitted" what he means is that we as people have decided the rules that we will follow. "Nothing is true" means "no rule is automatically true," and "everything is permitted" means "if we wanted to make the rules different, we could do anything." So, that creed informs how he is critical of the status quo and fights to both overturn oppression and to establish norms that cultivate thriving communities.
This backstory is obviously great fodder for her to talk with her youngest about slavery, teaching pride in Black people's resistance to oppression, thinking critically about the ways that we have constructed our society, and thinking creatively about how we might construct it differently.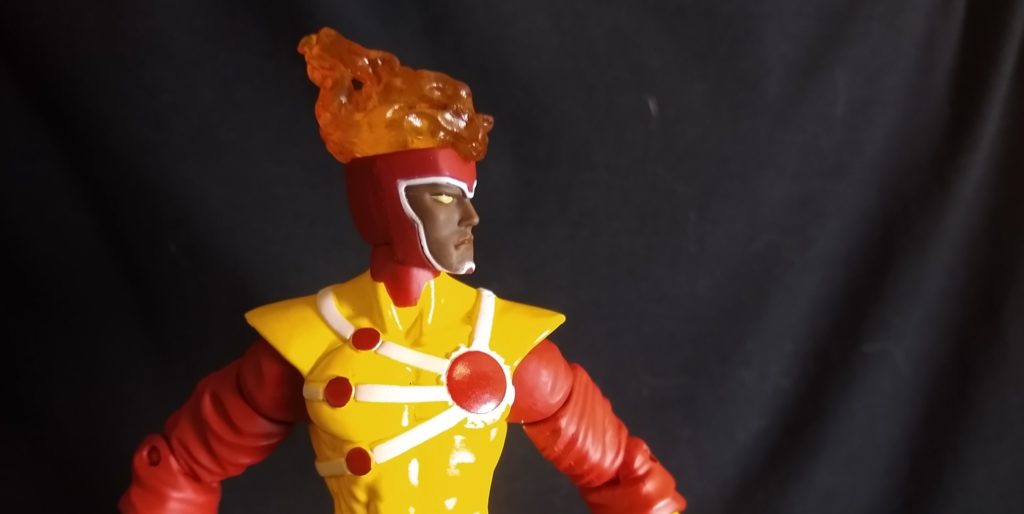 For the older son, I looked for a toy that fit with the great curiosity that he has. He is always researching and learning new things. I thought it might be cool to get him a toy that is one of the several Black geniuses out there. So, I chose Firestorm. There is actually more than one Firestorm. The Black one is named Jason Rusch. His powers are kind of insane. He can control matter at a molecular level, which means he can basically make anything into anything else by rearranging atoms as long as the mass stays the same. But his powers are limited by his understanding of the atoms that make up anything. So I encouraged the older son to look up the molecular formula for stuff so that Firestorm can know what atoms he needs to make whatever he wants.
In terms of thinking about why Firestorm fights (because we don't just do the good guy vs. bad guy thing around here), it has to do with power, control, and abuse. Jason experienced the trauma of being physically abused by his dad. Because of that, he understands the dangers that come with great power (like an adult being stronger than their son). Now that he is Firestorm and has this insane amount of power, he works to keep that power in check, and he tries to stop other people who are using their great power to harm and abuse people.
When they got the toys in the mail, the older son called me and was so excited. It was pretty awesome to see how well it worked! His younger brother was off playing with his toy while the older brother was telling me all the cool things he liked about Firestorm. He immediately was learning molecular science, being super creative with his ideas, and fitting it all into a program for Black liberation!
If you are looking to buy an action figure of Adéwalé or Firestorm, you can find one on eBay. They are not super popular, so they don't make them regularly. I have seen two different Adéwalé toys. One is an action figure that is made more for collectors than kids, I think. But a careful child could play with it. I've seen it on eBay for around $20. If it goes for less than that, you have found a good price. The other is a Mega Blocks toy that tends to cost less and was released more recently. If you're looking for Firestorm, there's plenty of White versions (with a few different names) and the Black version (Jason Rusch). There are a few different Jason Rusch action figures that you can find on eBay for a decent price.
Got questions or comments? Please hit me up on Instagram @BlackToysMatterBlog.