The first two action figures that I bought my baby were Valkyrie and Falcon. He was about eight months old, and I thought that I could use these two toys (just about as well as any random doll or other toy) to teach him basic human body parts and movements. So, that is what I have been doing with them ever since. He is still too young to do much when playing with them let alone understand some background life story or ideology. But I thought that starting with these characters from the jump might give me some momentum I can build on in later years in terms of him liking action figures, valuing playing with female super heroes, and (of course) seeing Black representation in the world of his toys as natural.
Before I bought him a Valkyrie (Brunnhilde) toy, I bought the same toy for the child of a friend right after that child became a big sister. She was three years old so the toy was age appropriate. At the most basic level, I just wanted to contribute to her still feeling special even with a new addition to their family. But, more than that, I wanted to encourage the little girl in her development as a leader. So I told her that people look up to Valkyrie as a leader just like she is a leader her little sibling will always look up to. I nudged her toward thinking about Valkyrie as a leader among the toys she already has, but who knows how well that worked.
When my son is older, I'll use Valkyrie to teach him about leadership and also some much more heavy stuff too. Valkyrie's story (from one of those Marvel movies) is that she used to lead a divine legion of female warriors in epic battles until she lost a really important battle where she was the lone survivor. Now she is a bounty hunter who struggles with alcoholism (which surely has to do with some underlying depression). Considering how close to home real issues with addiction and depression are for our family, I hope to use Valkyrie with some other toys (like Blade, Cloak, Ironheart, John Stewart Green Lantern, and Venom) to give my kiddo a chance to imagine the value of support groups and being vulnerable.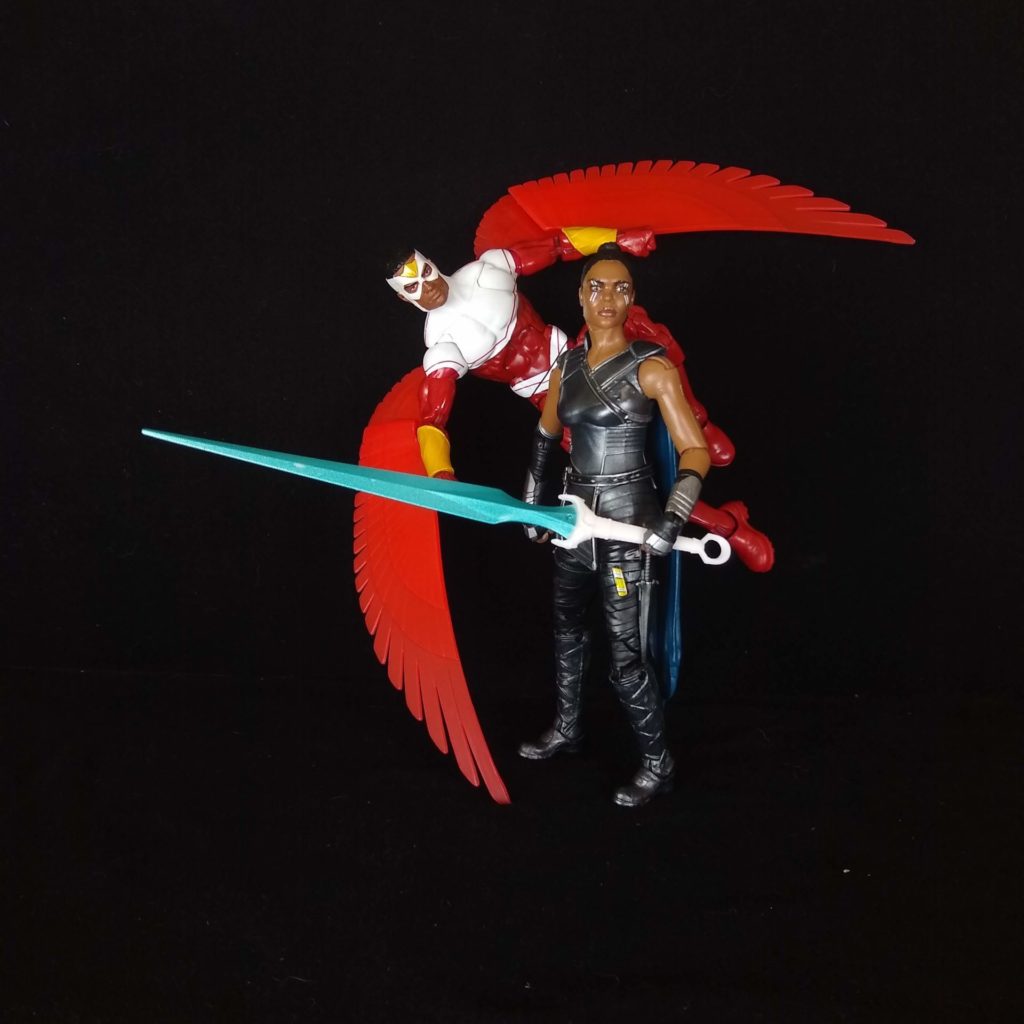 When he is older, I also plan to use Falcon (Sam Wilson) to teach many things. The background that I have created by tweaking what I read on Wikipedia is that Sam's parents were both ministers but he rejected Christianity as inadequate to address racism. His parents' noble reaction was to expose him to literature for considering other religions so that they could help him on his spiritual journey. Of course, that background can give me a chance for some productive conversations and hopefully creative play where Falcon is going on adventures that are part of him figuring out what he believes (flying to the highest place in the universe/house to see if God is there; getting transported into the spirit realm to figure out some mystery; going back in time; encountering an anti-racist, liberationist Christianity from the back-story I made for Domino or Zorro; or just mediating between other toys who might fight because of their differences of religion).
Another part of Sam's story is that his parents were killed by someone committing a crime. Without his parents, Sam found a sense of family by joining a gang. Those are both tough things to talk about, but they are also true to the lives of some of my son's cousins. Playing with Falcon can, hopefully, help him to step into their shoes with sympathy in the world of his imagination.
Finally, in having toys fight each other (as is so often the child's inclination), Falcon is motivated to arm oppressed people in their fight against oppressors. Part of his backstory in the comics is that he helped some native people on an island overthrow Neo-Nazi colonizers. So, I figured that can be his constant motivation to fight and it would make him a natural ally for toys like Killmonger and Black Manta, while going against toys like Black Panther or Batman.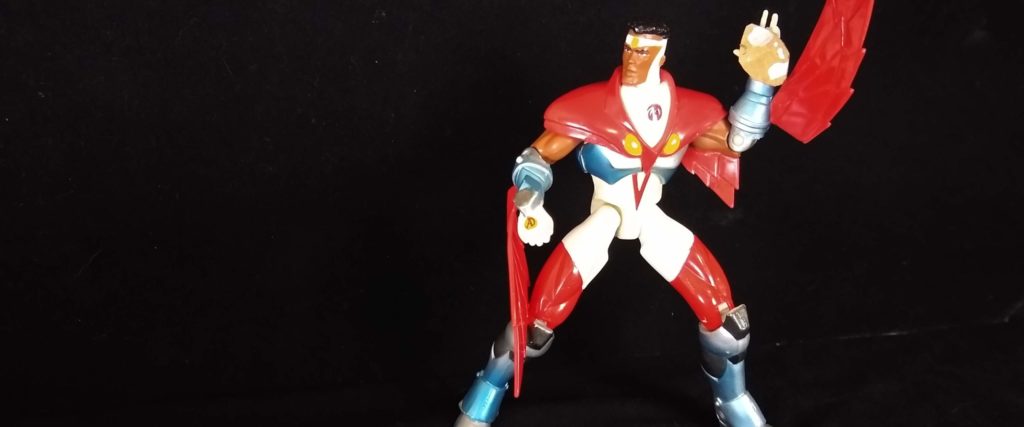 If you are looking to buy an action figure of Falcon, he is very easy to find. He continues to be featured in the Marvel movies so they keep make new versions of him almost every year. (They even have a Captain America version of Falcon, but I haven't figured out what to teach with that one yet.) I got the 12″ Falcon toy from Goodwill online, and there are always more of them there. You can find a ton a of different used or new ones on eBay as well. As for Valkyrie, she is more difficult to come across. There are only three different (Tessa Thompson) versions of her as an action figure that I know of. You can find them on eBay. The 12″ one is usually priced the best. One of the 6″ versions has a white suit and is almost always way more expensive than anything I would buy for a kid to play with. You can sometimes find the other 6″ version for a reasonable price.
Got questions or comments? Please hit me up on Instagram @BlackToysMatterBlog.